Fire Monsters

4 star naturally-summoned
3 star naturally-summoned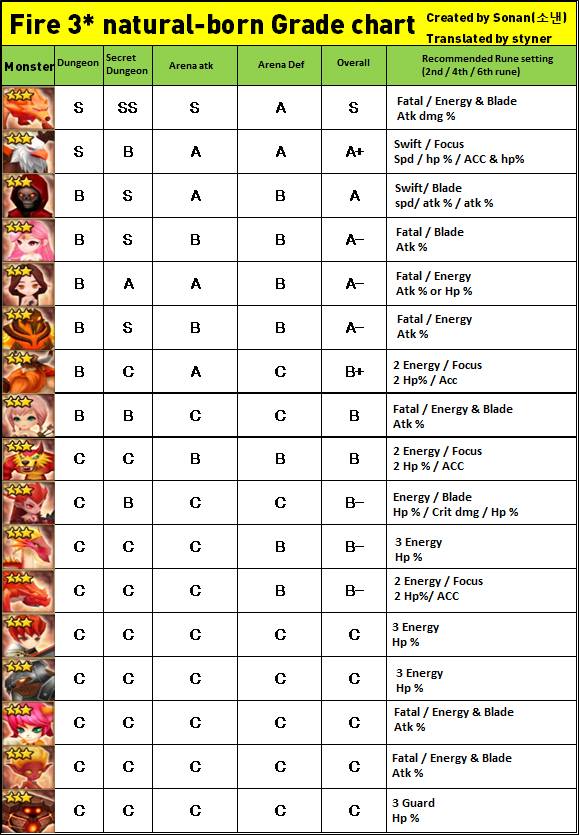 Water Monsters

4 star naturally-summoned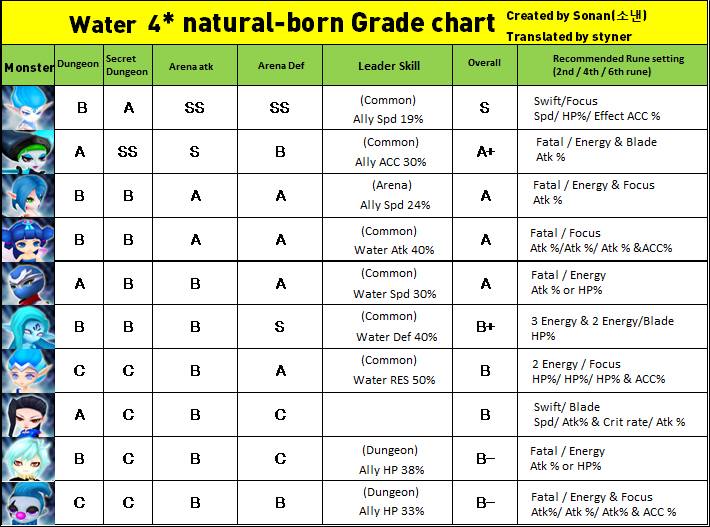 3 star naturally-summoned
Wind Monsters

4 star naturally-summoned
3 star naturally-summoned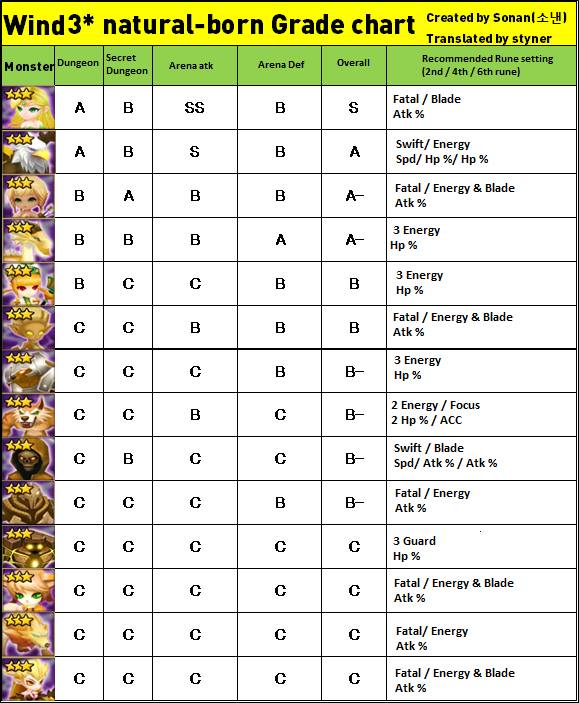 I wouldn't take the rankings listed above too strictly. It depends on what YOU are using the monster for, and also depends on how you use the skills and set their runes, so their rankings are just a very rough guideline.
If trying to judge if your monster has potential. Look at their skills and stats in the Collection page in the game.
Compare them to the other elemental versions of themselves and see which would be more useful to you.
See how well the monster's skills and stats work together.
If the monster's skills is increased only by defense/Hp/whatever, but his stats don't lean the right way to support those stats, then that might be a cause for concern.
I take ABSOLUTELY no credit for this, just sharing it here cause I found it handy for a quick guide.
And it seems useful for newbies at least.
The creator and translator names are found on the top right-hand of every image.
Pics were taken from the http ://forum.com2us.com/ on their "Guides and Tips" section!
They were posted by a member of that forum, Solye.
Not made by me!
Not sure if this belongs here or the Guide page, so if it's on the wrong page, sorry.
Good Luck on your summoning!
Last edited by Lycheeee on Mon Jul 21, 2014 12:52 pm; edited 4 times in total (Reason for editing : keep forgetting stuff >.>)

Xariel

7070 Water





Posts

: 54


Points

: 43


Join date

: 2014-06-25



Moving to General Guides section...
_________________


Flamepc

Admin





Posts

: 199


Points

: 245


Join date

: 2014-06-24


Age

: 21


Location

: California



Please credit the user who posted this on the original site.
_________________

Lycheeee

Admin





Posts

: 166


Points

: 395


Join date

: 2014-06-23



Done!
Is there anything else I forgot?
I don't share stuff like this very often, so please let me know if I missed out anything else.

Xariel

7070 Water





Posts

: 54


Points

: 43


Join date

: 2014-06-25



I seen this guide on the com2us forum and I always questioned the fact if 2 focus runes would work well on fire inugami... Because I would like to take advantage of the defense weaking and attack more often rate.

Fluffyie




Posts

: 25


Points

: 35


Join date

: 2014-07-02


Age

: 25



It depends on what you want the monster to do. The guide is just a recommended direction to take it. It doesn't mean that's necessarily the best choice for its setup.

Xariel

7070 Water





Posts

: 54


Points

: 43


Join date

: 2014-06-25




---
Permissions in this forum:
You
cannot
reply to topics in this forum